Little Bit O'Magic's Blog
MOON MAGIC A FULL MOON THAT OCCURS BETWEEN MAY 22 AND JUNE 21 WILL BE IN SAGITTARIUS. THIS MOON HAS MANY NAMES "ROSE MOON" "STRAWBERRY MOON", AND OF COURSE, HONEY MOON. THIS MOON IS HELPFUL IN MATTERS OF: •Understanding •Adventures; both mental and physical. •Travel that broadens the mind. •Expanding conceptual horizons. •Long-term planning The restless and enthusiastic energy of the Sagittarius moon pushes us in the direction of seeking adventure, change, and motion. The Full moon in this sign is a time for philosophy, metaphysics, traveling, studying, and freedom from responsibility. This moon's energy brings the need to feel...
---
This is a powerful full moon that will burn away any karmic energy that has been holding us back so we can move through the eclipse portal into a higher timeline. This is the time we dissolve truths, old belief systems, social conditioning, cultural conditioning and childhood conditioning that has been holding us back from becoming our greatest self. This full moon will also shine its light on what has been hidden all along. This can make many feel uncomfortable as secrets are revealed. If you hear something that triggers you, meditate and sleep on it. You will regret if...
---
---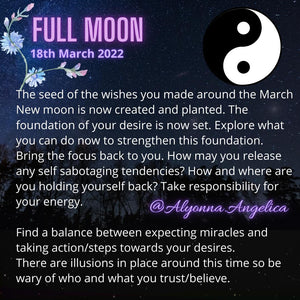 ---