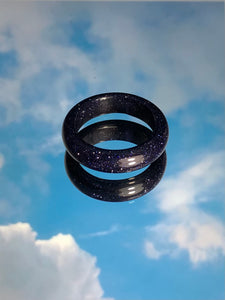 Little Bit O'Magic
Purple/Blue Goldstone Ring
Regular price
$5.00
$5.00
Unit price
per
Goldstone is a man-made stone.
Its sparkle is due to cobalt or manganese particles; this results in the deep, shimmery blue/purple color.
It is a deflector of unwanted energies.
Goldstone builds energy, courage and a positive attitude.
Increases drive and confidence.
As an uplifting stone, goldstone promotes vitality.
Helps to reduce stomach tension and benefits arthritic conditions.
Purple/Blue with lots of sparkle.
---